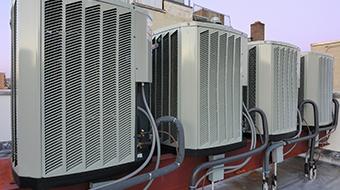 This is the place to be if you are looking for an air conditioning service and repair resource in Sanford, Florida. We have been able to grow because of the quality of the work that we provide for our neighbors here in Seminole County, and we have developed many relationships with locals. "The Historic Gateway City" is a great place to live and work, with a vibrant downtown area that serves as a centerpiece.
Though the quality of life can be described as excellent, it can get very hot, so you can't afford to be without air conditioning for very long. From the Sylvan Lake/Alderene Park area to Cameron City to Midway, for AC service and AC repair in Sanford, Florida, the professionals here at Air Current will always be ready to assist you.
New AC System Installations
In addition to the air conditioning repair work that we do, our air conditioning service is also well equipped to instill brand new air conditioning systems. Though a new AC unit can seem like a significant expense, in reality, it will pay for itself over time because of the enhanced energy efficiency. Our Sanford, FL air conditioning service offers nothing but SEER compliant units, so you get maximum cooling power at the lowest possible price. Plus, we source our products from the best manufacturers, including Ruud, Goodman and Trane, and these are some of the most trusted names in the business.
Commercial Sanford, Florida AC Service Repairs
We have all of your commercial AC repair and installation needs covered, but we also specialize in commercial air conditioning repairs and commercial air conditioning service. Our company provides very timely responses to emergency situations, and this is something that sets us apart from the competition. Plus, if you get on a regular air conditioning service schedule, the preventive maintenance can nip potential problems in the bud before they happen. Another advantage is the energy efficiency that you maintain if your system is always running optimally.
Contact AIR CURRENT INC Right Now!
If you need an AC repair, ongoing air conditioning service, or an AC installation, you can speak with one of our Sanford, Florida AC Service consultants right now if you give us a call at 386-532-8885. We can also be reached toll-free at 866-730-7418, and you can request an estimate online through the contact page on this website.
---