Commercial HVAC Repairs, Commercial Air Conditioning Replacement in Cassadaga, Debary, Deland, Deltona, Heathrow, Lake Helen, Lake Mary, Orange City, Osteen, Sanford, FL
Our Business is Keeping Yours Comfortable
Providing a comfortable facility is essential for retaining customers and employees. When the HVAC system you depend on to maintain the perfect temperature at your business quits working, your business suffers.
In addition to comfort issues, it's important to note that your air conditioner also acts as a dehumidifier. Sensitive electronic equipment, medical facilities, and laboratories require consistent temperatures and excess temperature variations can cause serious problems. There are so many reasons to ensure you have a solution in place should you suffer an HVAC system failure.
AIR CURRENT INC understands the importance of maintaining a pleasant commercial environment. That's why we respond so quickly every time we receive a commercial HVAC service call. Our highly-trained technicians have hands-on experience in commercial HVAC service to provide quick and accurate diagnostics and fast repairs without compromising quality. That means less spent fixing your system, which means lower costs for you. And it means your downtime is reduced as well. AIR CURRENT INC'S commercial HVAC service saves you time and money.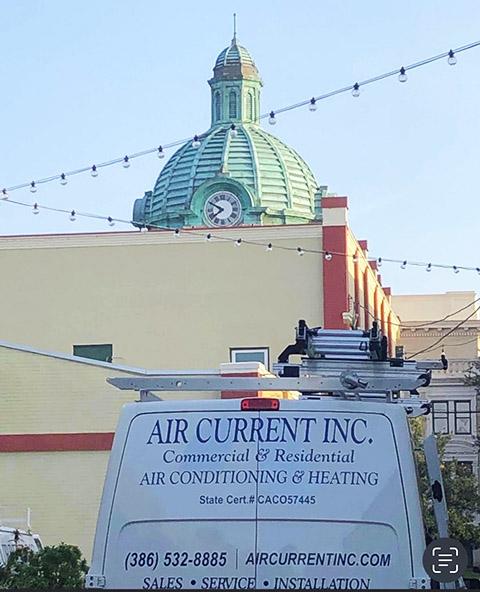 Every Business, Every Make, Every Model
AIR CURRENT INC provides quality replacement commercial HVAC systems designed to meet the needs of a wide variety of businesses. We work with a large network of manufacturers to provide the right system for every application. That means our technicians have extensive experience in servicing many different makes and models…including systems that we don't sell. Our commercial repair and maintenance service isn't limited to the models we install or sell, so you never have to search for a company that can meet your commercial HVAC needs. One call to AIR CURRENT INC gets you the service you need, delivered with the professional, personal attention you deserve.
Helping You Cut Costs
One of the most affordable ways to improve your company's profitability is to reduce your costs. An inefficient HVAC system could be costing you money, using more energy than necessary. Older systems aren't as efficient as today's systems. Your AIR CURRENT INC technician can help you determine if it would be cost-effective to replace your old system with an energy-efficient system.
Rooftop units, split systems, package systems, furnaces, and commercial indoor air quality products: AIR CURRENT INC offers them all. As certified experts for several major brands, AIR CURRENT INC provides professional installation for every make, model, and type of HVAC system and related product we sell, as well as ongoing maintenance solutions that keep your system in top working condition.
Proper maintenance can ensure that your current system is functioning at top efficiency, saving you from spending more than necessary on running your system. Be sure to ask about our commercial maintenance solutions designed specifically for businesses.
Free Estimate
We are an Authorized Installer of York, Rheem/Ruud, and Trane. We service and repair ALL BRANDS.