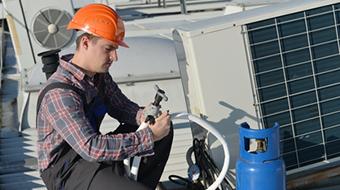 You should definitely bookmark this page if you are trying to identify a reliable resource for DeBary, Florida air conditioning repair work. We have built a reputation as the leading air conditioning service company in Volusia County, and we put it on the line every time we go out on an AC repair assignment.
This community is a great place to live if you love outdoor activities. There is easy access to St. Johns River, and there are many large parks within the city limits. Without question, residents enjoy a high quality of life, and we are proud to be able to serve this fine community. From Benson Junction to Valdez to City Center to Blue Springs Landing, if you ever need an AC repair in DeBary, Florida, a prompt response will always be just a phone call away.
Air Conditioning Installations
The professional AC service technicians that comprise our team are fully equipped with a wide array of AC parts, and they understand how to work on all different types of systems. However, they are not miracle workers. Sometimes an old, outdated dinosaur simply must be replaced.
We offer air conditioning sales and DeBary, FL AC installation services. You can choose from high-tech, energy efficient systems that are manufactured by companies like Trane, Goodman, Carrier, and Ruud. Plus, because we are certified installers for these highly respected companies, the warranties that come along with their systems will be in full effect after we complete the AC installation for you.
Commercial Air Conditioning and Heating Repair Specialists
Local homeowners can certainly rely on us for AC services of all kinds, and as a comprehensive HVAC contractor, we provide heating repairs for heat pumps and gas furnaces. At the same time, we also serve members of the local business community. We can be called upon to provide air conditioning repairs and AC installations for DeBary businesses of any size or scope. And to nip potential problems in the bud before they happen, you may want to take advantage of one of our preventative maintenance programs. A small investment in maintenance can save you a lot of money in the long run.
Contact AIR CURRENT INC!
Whenever you need an AC repair, a heating repair, or a new air conditioning installation in DeBary, Florida, we can be reached by phone at 386-532-8885, and our toll-free number is 866-730-7418.
---