Air Conditioning Service in Lake Mary, Deland, Sanford, Lake Helen, FL and Surrounding Areas
6 major signs that you need to avail of air conditioning service
If you notice any of the following signs, it's a good indication that you need to avail of air conditioning service.  Air Current Inc. provides air conditioning service in Lake Mary, Debary, Deland, Sanford, Lake Helen, Orange City and surrounding areas.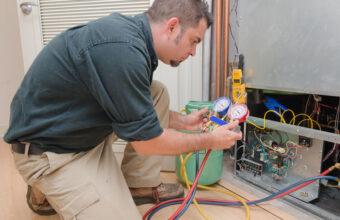 Reduced Cooling Efficiency: If your air conditioner is not cooling your space as effectively as it used to or if you notice inconsistent cooling, it could be a sign of a problem. Reduced cooling efficiency might be caused by issues like a clogged filter, refrigerant leaks, or a malfunctioning compressor.

 

Strange Noises: Unusual noises coming from your air conditioner, such as grinding, banging, or squealing, are often indicative of mechanical issues or loose components. These noises should not be ignored, as they could worsen the problem and lead to a more expensive repair if not addressed promptly.

 

Unpleasant Odors: Foul smells emanating from your air conditioning unit or the air it blows into your space could be due to mold or mildew growth within the system. It can also be caused by accumulated dirt or debris. These odors not only affect indoor air quality but also indicate the need for a thorough cleaning and inspection.

 

Poor Airflow: If you notice weak or limited airflow from the vents, it may suggest a blocked or obstructed air duct, a failing blower motor, or a clogged filter. Reduced airflow not only compromises comfort but also puts more strain on the system, potentially leading to further damage.

 

Leakage or Moisture Buildup: Any signs of water leakage or moisture accumulation around or near your air conditioning unit should be taken seriously. It might be an indication of a refrigerant leak, a blocked drain line, or condensation issues that need immediate attention to prevent water damage and mold growth.

 

Increased Energy Bills: A significant and unexplained increase in your energy bills could be a result of an inefficient air conditioner. When your AC is struggling to cool effectively, it has to work harder and consume more energy to maintain the desired temperature.

 
Regular air conditioning maintenance is essential to prevent these issues and ensure your AC operates optimally. If you notice any of these signs, it's recommended to contact a professional HVAC technician for a thorough inspection and necessary repairs or servicing. Remember, addressing problems early can help extend the life of your air conditioning system and save you money on costly repairs down the line. Please call us without any hesitation.